"The most beloved memories I had as a young child were those of spending time on the water with my father and grandfather. Those memories molded me into the person I am today and gave me a love and respect for nature that everybody deserves to have."
WELCOME TO A FINE LINE CHARTERS
Wilmington Fishing Charters &
Wrightsville Beach Fishing Charters
Wilmington NC offers a versatile fishery with countless options for inshore, nearshore, and offshore fishing in Wrightsville Beach, Figure Eight Island, Topsail Beach, Carolina Beach, and the Cape Fear River. Come and join Captain Shawn Antley on your Wilmington fishing charter and make memories that last a lifetime!
Kids, Fishing, And The Future
At A Fine Line Charters we understand that the next generation of children will be our guardians and caretakers of our oceans and its resources. We encourage you to take a kid fishing, change a life, and help create a bright future for our up and coming generation of anglers.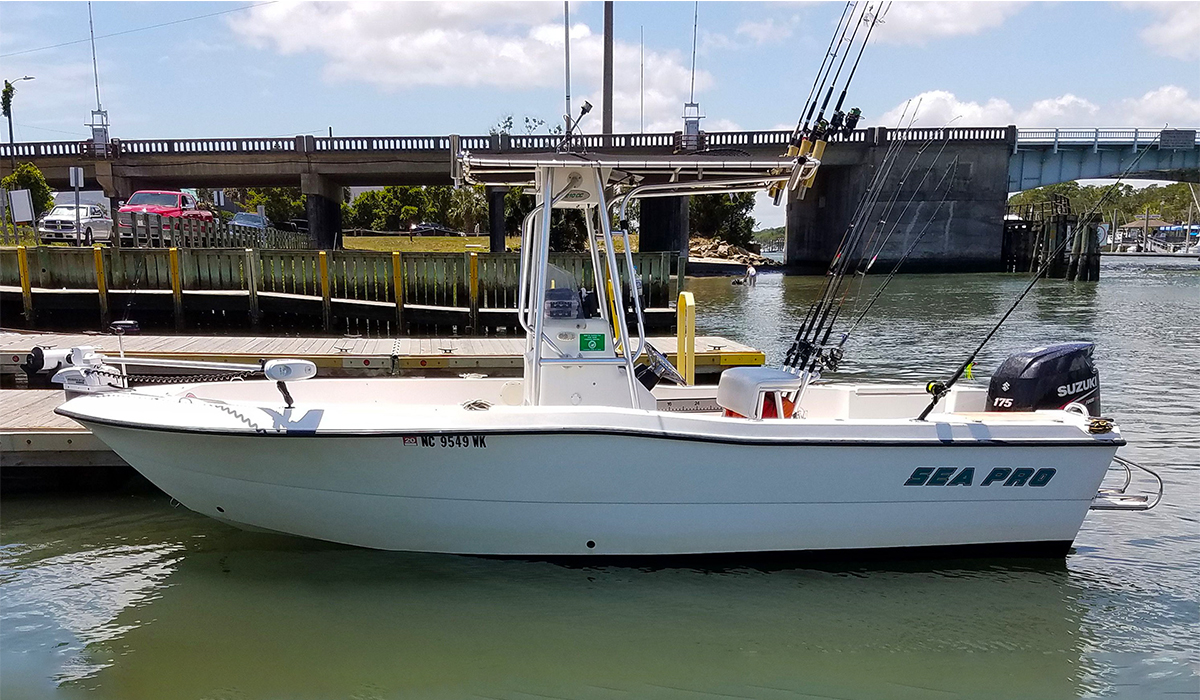 A FISHING EXPERIENCE LIKE NO OTHER
Wilmington Fishing Charters With
Captain Shawn Aboard The Fine Line
The Fine Line is a 22 foot Sea Pro that offers the versatility of fishing offshore wrecks, but also the grass lines and flats of inshore waters.
Whether you are a salty seasoned veteran of salt water fishing or a beginner just trying to enjoy the sport. We have custom trips to fit your needs. As a born and raised Wilmington NC local, Captain Shawn knows the waters of southeastern NC like no other. The experience of fishing with Captain Shawn will not only be a unique one, but will also leave you with a wealth of knowledge critical to mastering sportfishing in southern NC.
* There will be a $50 dollar charge for more than three people.
If your party has more than four we can buddy up with another fellow captain, and fish a two boat charter.
Capt. Shawn worked us in after we had to cancel with another captain. He is very knowledgeable and put us on the fish quickly.
The whole family had a great time and we reeled in two monster amberjacks! We plan on booking again.
Could not have asked for a better experience! Captain Shawn is a fantastic captain and real angler.
He knows all the right places to go and is so patient with all his clients regardless of age.
Great experience! We had two boys and Captain Shawn was wonderful with them!
Caught lots of fish. We will definitely be back.
We went out all day and Capt. Shawn was outstanding! He found the fish and we walked away with a massive King and a bucket full of snapper and sea bass. Great time and we can't wait to get back out on the water!
Great time. Super patient with 7 and 5 year old (even after one hooked Captain Shawn).
Very knowledgeable and has a passion for fishing.
Second time going out with Captain Shawn. We went about 8 miles offshore tried the top bite but nothing.. Fairly quickly went to bottom fishing and started catching fish! My 11 yr old son even caught his first shark! Capt Shaun is a top notch guy and will do everything he can to get you on some fish!
Captain Shawn was awesome. Great with my son and daughter. He had us out on the water and within 5 minutes we were catching fish. He took the time to tell my son about every fish he caught and show him things about the fish. He made the trip unbelievably fun. My son caught fish nonstop and loved it.
Wilmington Fishing Reports
It took a hot minute to find the fish, but [...]
Putting young Sofia and Austin on their first Grand Slam. [...]
What a beautiful slick day on the water with some [...]